VR Hackathon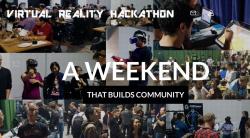 Web3D Sponsored VR Hackathon events  bring together the brightest minds interested in virtual reality and complementary technologies to develop innovative hardware and software solutions.
For more information on VR Hackthon please visit us at: www.vrhackathon.com
The open community of virtual reality and immersive technology developers, designers, makers, and artists along with amazing sponsors are making this hackathon happen.
It's an opportunity to collaborate with cutting edge technologies and its developers while promoting open standards and sytems.
Virtual Reality, Augmented Reality, Human Computer Interface, Wearables, Cloud Services, Mobile Apps, Gaming, 3D Printing, Digital Fabrication, and Drones are a few of the innovative categories with which the hackers will be challenged.
If you are interested in hosting a VR Hackthon please contact: Anita Havele, Executive Director.