IEEE VR 2023 - Workshop on Immersive Visualization - Past, Present and Future.
Primary tabs
Submitted by

anita.havele

on Wed, 2023-03-15 12:15
2023 IEEE VR's Satellite Workshop at Virginia Tech (25 and 26 March 2023) will gather practitioners from immersive visualization laboratories to share their success stories, information about their hardware setups and the software they used and/or developed. A Virginia Tech paper and on-site tour of the Visionarium Lab presents how X3D has helped fulfill their mission for decades and continues to provide access and innovation for a variety of users across campus and discplines.

IEEE VR 2023's   Satellite workshop  at Virginia Tech (25 and 26 March 2023) will discuss "successsful" and "not-so-successful" stories with lessons learned. Participants will come together to discuss the future of large-scale immersive visualization labs. Bringing visualization practitioners together to advance the way our field works with immersive visualization hardware and software frameworks for a sustainable immersive visualization. Satellite Workshop Details.
25 years so far: Lessons from a Large Scale Immersive Visualization Facility using Web3D open standards! Virginia Tech's Director of Visual Computing, Nicholas Polys will reflect on the challenges and successes of providing cutting-edge immersive visualization facilities for a variety of academic users. Extensible 3D (X3D) is noted as a key element in their long-term strategy for data durability and access from CAVEs to the WWW to WebXR and Mobiles.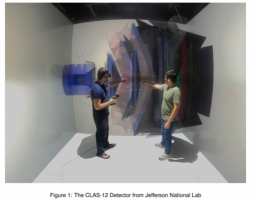 The program consists of a balanced mix of keynote talks, paper presentations, and panel discussions around the current state of immersive visualization labs, and the path forward. Topics of interest to the "Immersive Visualization Laboratory" workshop include:
Success stories in research institutions and industry
Not-so-successful stories in research institutions and industry
Strategies for sustainability
Scientific and visualization workflows for large-scale labs